Hair removal

Laser hair removal treatment has now been around for over 35 years. The most widely used techniques for permanent hair removal, are laser (diode laser, alexandrite and ND-YAG laser), IPL & SHR.
In all these methods, an intense beam of light is directed onto the skin and hair. This high-energy light penetrates the root of the hair and destroys it permanently.
How does permanent hair removal work?
The light pulse of the hair removal device, generated in the handpiece or applicator, is placed on the skin and hair. The hair contains the pigment melanin, which then transmits the light pulse to the root. Modern lasers and hair removal devices emit very many light pulses within a short period of time, so that the hair root is heated to about 70 C degrees, while the skin hardly absorbs this energy. Since the skin is usually lighter than the hair, the hair and hair roots absorb the light pulse, while the skin reflects most of it.
Through these treatment methods, the hair root and follicle are obliterated. The hair is no longer supplied by the root and falls out after about 2-3 weeks. An improvement can usually be seen and felt already after the first treatment.
Is the treatment dangerous or painful?
The treatment is painless, gentle to the skin and harmless. During the treatment, you will only feel a brief sensation in some areas. However, this pinck does not last longer than 1 second and is comparable to plucking a single hair.
With each treatment, the skin texture of the treated area improves and redness, pimples and ingrown hairs are a thing of the past.
Permanent hair removal does not expose you to UV rays or anything similar. In addition, all of the devices we use for hair removal are approved by health authorities and are regularly tested and maintained.
No Waxing, Epilating & Sugaring
We would like to emphasize that our methods for hair removal are entirely different from "Sugaring", "Epilating" and "Waxing", even if these are advertised as "permanent hair removal". These three methods do offer a reduction of hair for a short period of time, but nothing can be seen of this result after 8-10 weeks at the latest, if these types of hair removal are not performed again and again. The skin is also subjected to a lot of stress when the hair is pulled out and often reacts with redness. In the worst cases, this can also lead to ingrown hairs that continue to grow under the surface of the skin.
The methods of waxing, epilating, sugaring & plucking can therefore not provide a permanent solution to bothersome hair and cannot be compared to the results of Laser, IPL & SHR.
Cleanliness
The safety of our customers is very important to us. Therefore the issue of cleanliness is paramount. We clean and disinfect our rooms and treatment equipment several times a day, before and after each treatment. During the treatments we always wear gloves, a mouth-nose protection and a suitable eye protection, which our customers also put on during the treatment. All hygiene regulations are observed at all times.
Safety
Our devices are all CE marked and comply with the regulations of the US Food and Drug Administration (FDA) and the European Health Authority (EMC) Directive 89/336/EEC. The hair removal devices are made in Germany. Our body shaping devices are from Switzerland.
How it works
Preparations
For 3 weeks prior to treatment, do not epilate, wax or pluck your hair in the area to be treated. You can shave your hair naturally as this will not pull out the roots. For 2 weeks before the treatment you should avoid solarium and intense sun (such as extreme sunbathing, vacation in regions such as Mediterranean, Caribbean, South Asia). If you go out in the sun, then only with sufficient sun protection factor. The skin area to be treated should be shaved about 2-3 days before the treatment, so that short stubble with a length of about 1mm is visible. Therefore we can treat these hairs in a more targeted way.
The treatment
Before the treatment, a gel is applied to the skin area to be treated. Then the skin area is treated with the appropriate laser (depending on the treatment area, this can take from about 5 minutes for the upper lip to about 1 hour for the back). The treatment is perceived by most clients as a slight 'pinching' sensation.
Treatment success
After about 2-3 weeks, the hairs that were in the growth phase fall out. To get rid of all the hairs, usually several treatments are necessary, because the hairs alternate in their growth phase. You will be able to see and feel success quickly. However, a little patience is needed until all the hairs are finally removed.
After the treatment
We can apply a conditioning gel to the treated area, if needed. You can go about your usual activities after the treatment. Playing sports is just as unproblematic as taking a shower or going to work. You should avoid peeling the treated area on the same day, to avoid irritating the skin unnecessarily. You will quickly notice that skin redness, ingrown hairs and shaving pimples are a thing of the past!
Treatment videos
Hair removal for her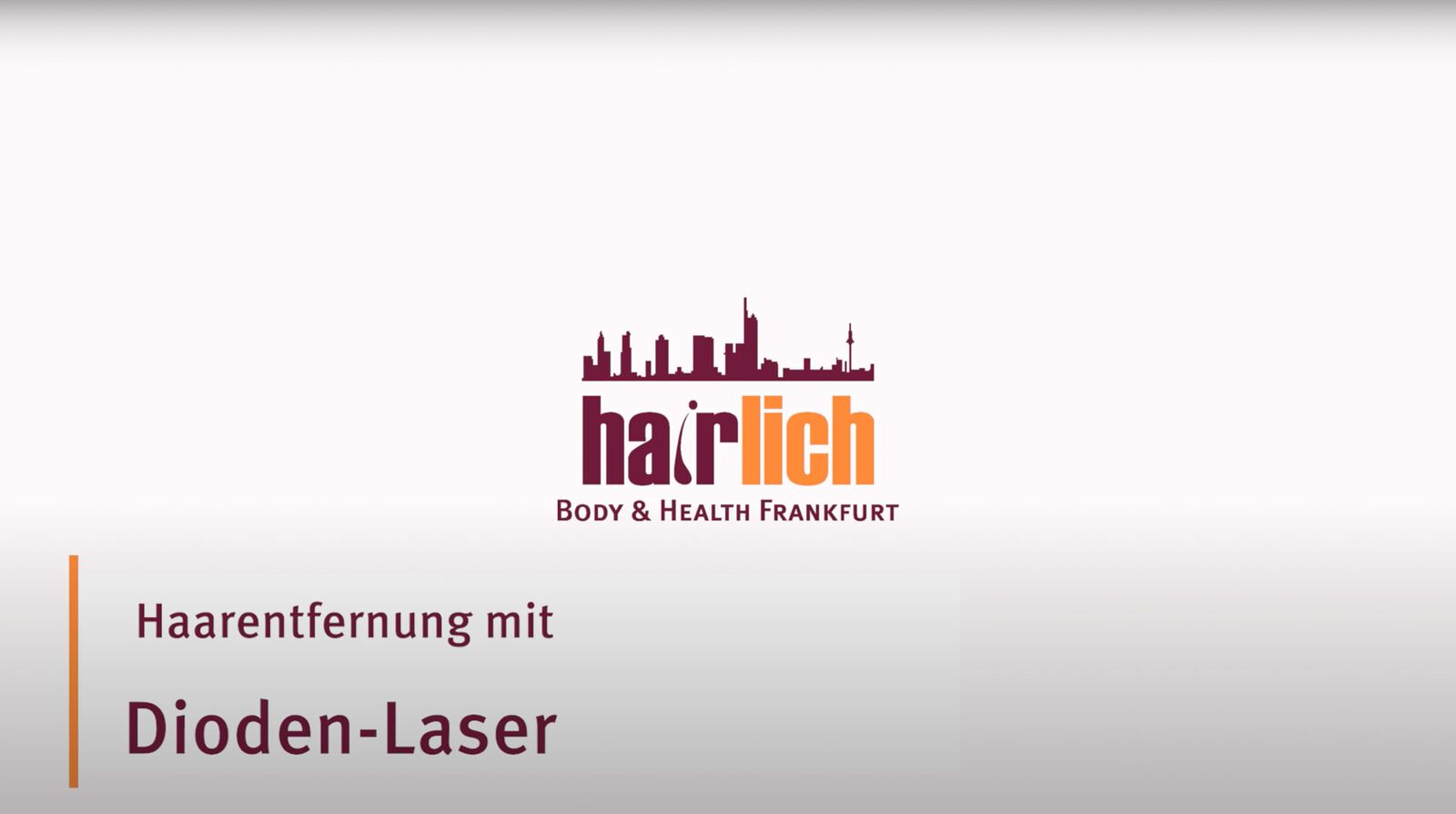 Hair removal for him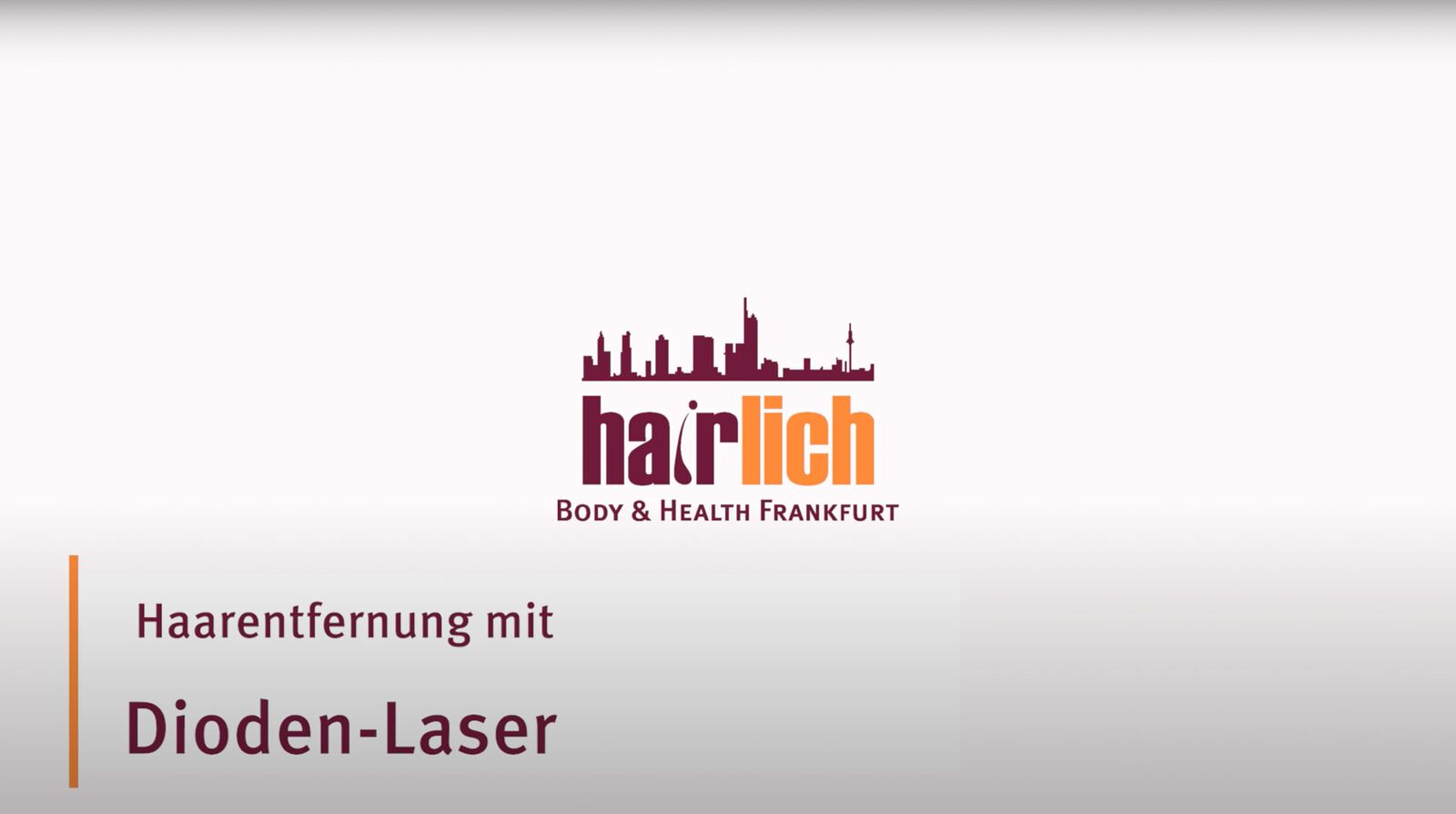 Our devices
IPL - Intense Pulsed Light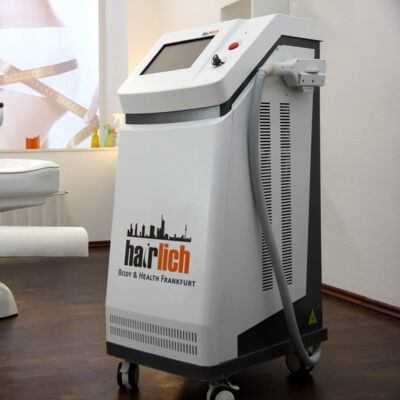 Advantage: perfect for dark hair and pre-tanned or dark skin
Disadvantage: not suitable for light hair
In this method of permanent hair removal, a xenon flash light is directed at the area of skin to be treated. As a rule, 10 to 15 light pulses are emitted within one second. Thus, the entire area of about 2 x 5 cm is treated very quickly. IPL devices can emit a wide range of light, so special filters are used to focus this light. The lamp is water-cooled and is replaced regularly.
We use special IPL devices with a filter of 640nm, 750nm and 1064nm. This technique is particularly suitable for our clients with dark hair and pre-tanned or dark skin.
SHR - Super Hair Removal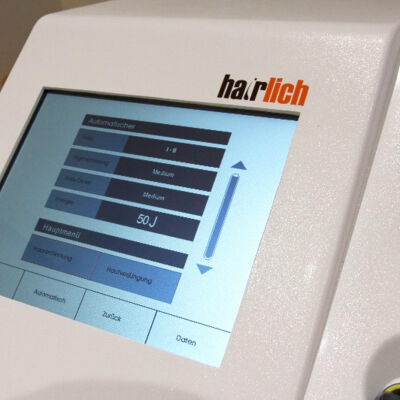 Advantage: very pleasant
Disadvantage:
less energy
not suitable for deep lying hair
more treatments required
This method is another variant of the IPL technique, which also uses a xenon flash lamp. The difference is that the light pulse in this device, unlike IPL, flows continuously and is basically less energetic. This method is well suited for clients who have very sensitive skin. However, it usually requires several treatments to achieve a satisfactory result. The lamp in this device is also water-cooled and is replaced regularly.
Laser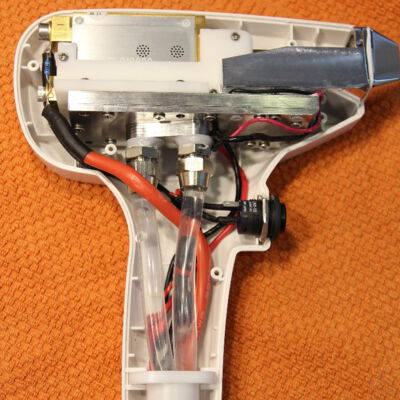 With a laser, the light is generated by a crystal (sapphire / ruby) or a diode and is bundled and amplified through transmission. Here, also, several light pulses are emitted within one second. However, these light pulses are usually longer and can therefore penetrate deeper in to the hair roots. Depending on skin color and hair color, various lasers are suitable for treatment for gentle permanent hair removal.
Laser devices produce light in a single wavelength, such as the Diode Laser (808nm), Alexandrite Laser (755nm) and ND-YAG laser (1064nm).
Diode laser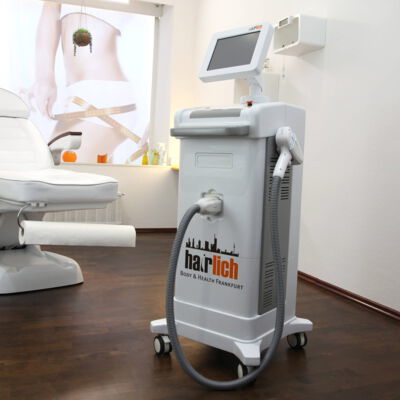 Advantage: very suitable for removing deeper hairs
Disadvantage: not suitable for light hair
This treatment method is suitable for light and olive skinned people with dark hair. There may be slight redness after the treatment, which can still be visible for up to 2 hours. This laser uses a wavelength of 808nm.
Figure 2: Diode laser
Alexandrite laser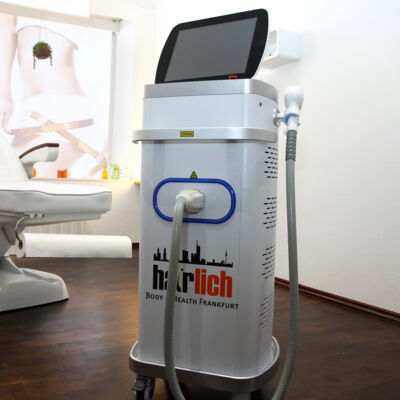 Advantage: very suitable for removing deep-seated and light colored hair
Disadvantage: unsuitable for dark skin - uncomfortable with many and dense hairs
This laser uses a wavelength of 755nm. This variant is suitable for light skin with few hairs or for hairs that are not so dark. Again, after the treatment, there may be slight redness, which can still be visible for up to 2 days. On the pores you can still see small redness of the skin up to 2 weeks after treatment until the hair falls off.
How about getting to know our team, premises and equipment in more detail? Here you are guaranteed to find the right specialist for your very personal concern.